When purchasing ethnic wear, there are a few staples that we must have in our wardrobe. One such outfit is the classic white kurti which gives us numerous styling ideas. The flexibility of donning a white kurti is immense because, from dupattas to accessories, everything can be seamlessly paired.Several celebrities and social media influencers have shown us how to style this classic merchandise differently. Moreover, wearing a white cotton kurti during the summer helps us breathe while looking chic. Here, we will share ideas on how to style a white kurti and take inspiration from our favourite celebs.6 Amazing Ways to Style a White KurtiHere are some ideas for styling white kurti to keep wearing it often yet making it look different:1. White Kurti with SkirtThe regular-wear white kurti for women can become the limelight of an event if you pair it up gharga or a skirt. The idea here is to go basic with this style and pair it with an extravagant piece for the bottom. Your accessories must be in similar colour tones to your skirt. Note that this style is an idea for a short and white kurti outfit to allow the skirt to dominate. 2. White Kurti with JeansGetting late for college and don't know what to wear? One of the easiest examples of how to style a white kurti is by pairing it with a pair of jeans. While sky blue denim is the ideal pick, you can choose different shades depending on what's available in your wardrobe. Ideally, the white kurti style for this one should be a long one. If you have a deep slit in the middle or side, you will look more stylish. Accessorise this look with a chic pair of sunglasses and your favourite studs for earrings and rings.3. White Kurti with ShrugOne of the best makeovers on the list of how to style a white kurti idea would be to add a shrug over it. A colourful and long shrug covering you till the knees is what you need to deviate the attention from the plain apparel. You can match the colour of the shrug with the palazzo, leggings, or jeans you choose to wear. Don't forget to accessorise with contrasting pair of long dangles for your ears.4. White Kurti with DupattaWhite kurti design with dupatta is a style where you allow printed and colourful dupattas to dominate the look. A bold bandhani print in orange and pink or a navy-blue georgette print with white stripes will perfectly contrast the look. With this white kurti look you can pair white palazzos as well. Here, the primary focus will be the printed dupatta, which will ideally have a mix of vibrant colours.5. White Kurti with Bold EarringsLong jhumka earrings are the perfect blend to your classic apparel to make the general look elegant. Depending on what you pair it up with for the bottoms, you can go for a contrast colour blend. Latkans are another eye-catchy option, which looks class apart when choosing silver or golden ones that match your overall outfit. You could also go for danglers as they oomph your overall facial appearance and dominate the entire look.6. White Kurti with Pretty HandbagAre you running out of ideas on how to style a white kurti because you have tried all of the above? Do you not have enough time to concentrate on your makeup, or you cannot find the jhumka you need? Depend on a beautifully crafted piece of handbag to add a vibrant touch to your overall look. These bag types include ones with mirror work, banjara designs, jhola bags, and more.Celebrities wearing white kurtiOur favourite celebrities keep dropping hints when it comes to how to style a white kurti. Here we will go through some ideas straight out of B-town to enhance our fashion quotient:1. Kareena Kapoor KhanYou can swear by a heavy piece of a silver necklace when going all white like Kareen Kapoor Khan. She is wearing a white kurta with full sleeves with a Chinese collar. The neck design is a staple for men's kurtas but looks equally strong when worn by strong women like her. For pants, you can go for a regular churidar. Note that the jewellery here plays a pivotal role, so go for oxidised jewellery if you don't have silver. https://i.pinimg.com/564x/4a/58/89/4a5889e0e0e2b3427c7718b9f976454d--saif-ali-khan-kareena-kapoor-khan.jpg2. Sara Ali KhanSara Ali Khan is the only new-generation Bollywood actor who keeps donning ethnic wear now and then. She feels that Indian wear gives us the kind of comfort we all require and is often spotted wearing white apparel.The airport look we see in this picture is a white salwar kameez suit. However, you do not need to buy a set when you want to go all-white. If you simply replace the dupatta design with a different colour, it will add vibrance to your look. You can't miss out on those kolhapuri shoes that perfectly match this attire.https://assets.vogue.in/photos/5ce431fa9cc0c05090f9dd59/master/w_433,h_650,c_limit/Celebs-in-white-kurtas-Sara-Ali-Khan.jpg3. Anushka SharmaIf you're cotton white kurti has handiwork done over them, you already have a plus point because it has designed. Pairing it with a pastel tone palazzo like Anushka Sharma here will add a statement to your look. Don't miss out on the black buckled shoes that add a dark tone to the overall light-coloured apparel. Her classy handbag in white adds to the look all the more.https://akm-img-a-in.tosshub.com/sites/cosmo/sites/default/files/inline-images/Anushka-Sharma.jpg?WUwAW0u4CdK9X3ndDURuocEWXQXhS9dt4. Malaika AroraThis lady has been on top of her game whenever it comes to fashion. From her gym looks to her reality TV hosting sessions, you will never find a dull moment when spotting Malaika Arora.Here we find her wearing a white kurti and palazzo set. Her palazzo has a design added, giving a twist to our regular palazzo types. Her cotton kurti has chiffon sleeves and handiwork done all over to make it look simple yet fabulous.https://akm-img-a-in.tosshub.com/sites/cosmo/sites/default/files/inline-images/malaika.jpg?Jt1JzFscTVtndSpOORzjGkEKYDOGY6gL5. Ileana D'CruzChikankari is one style that every woman loves because it can make the simplest colours shine out. The ancient traditional form of embroidery originated from Lucknow. It has a rich history that has been in practice for centuries and is still a staple design for kurtis today.Here, we see Ileana D'Cruz donning a white chikankari outfit and cotton palazzo pants. She also carries a dupatta styled to one side and black bag that contrasts her look.https://c.ndtvimg.com/2020-10/apktoicg_chikan_625x300_27_October_20.png6. Sonam KapoorThe OG of fashion in this industry has to be Sonam Kapoor because she has always taken styling seriously. Be it an airport look or a baby bump; you simply cannot find Sonam wearing something she shouldn't!Here, the style icon has shown us how an ethnic white kurti can be a part of a fusion by donning a blue denim jacket as a shrug. Her silver jewellery massively impacts the overall look and keeps the Indian styling quotient intact. Finally, her bag contrasts the entire apparel.https://g3fashion.com/blog/wp-content/uploads/2019/06/kurti-with-jacket.jpg7. Alia BhattWhile Alia Bhatt has shown us how beautifully the colour white can be used in Gangubai Kathia wadi, she mostly wore sarees in the film. Here, we see Bollywood's favourite girl donning a synthetic off-white ethnic suit with yellow floral prints. A similar white kurti in this suit can be contrasted with a pair of yellow leggings, palazzos or shararas.https://i.zoomtventertainment.com/media/Celebs-in-white-kurtas-Alia-Bhatt.jpgFinal thoughtsIf you are looking for more inspiration, you can follow that boho girl on Instagram. She had a viral video on ways to style a white kurti with all the details you could need when dolling yourself up!Buying a white kurti for yourself can make you wear it in several ways. It is a perfect way of repeating clothes without repeating the same outfit. All you need to do is style yourself in the aforementioned ways and see what works for you.Remember that silver and gold jewellery has a distinctive way of matching and depends on your overall outfit. So, once you are done choosing what to wear, choose your accessories accordingly. Shoes and bags hold equal importance; consider them a part of your styling routine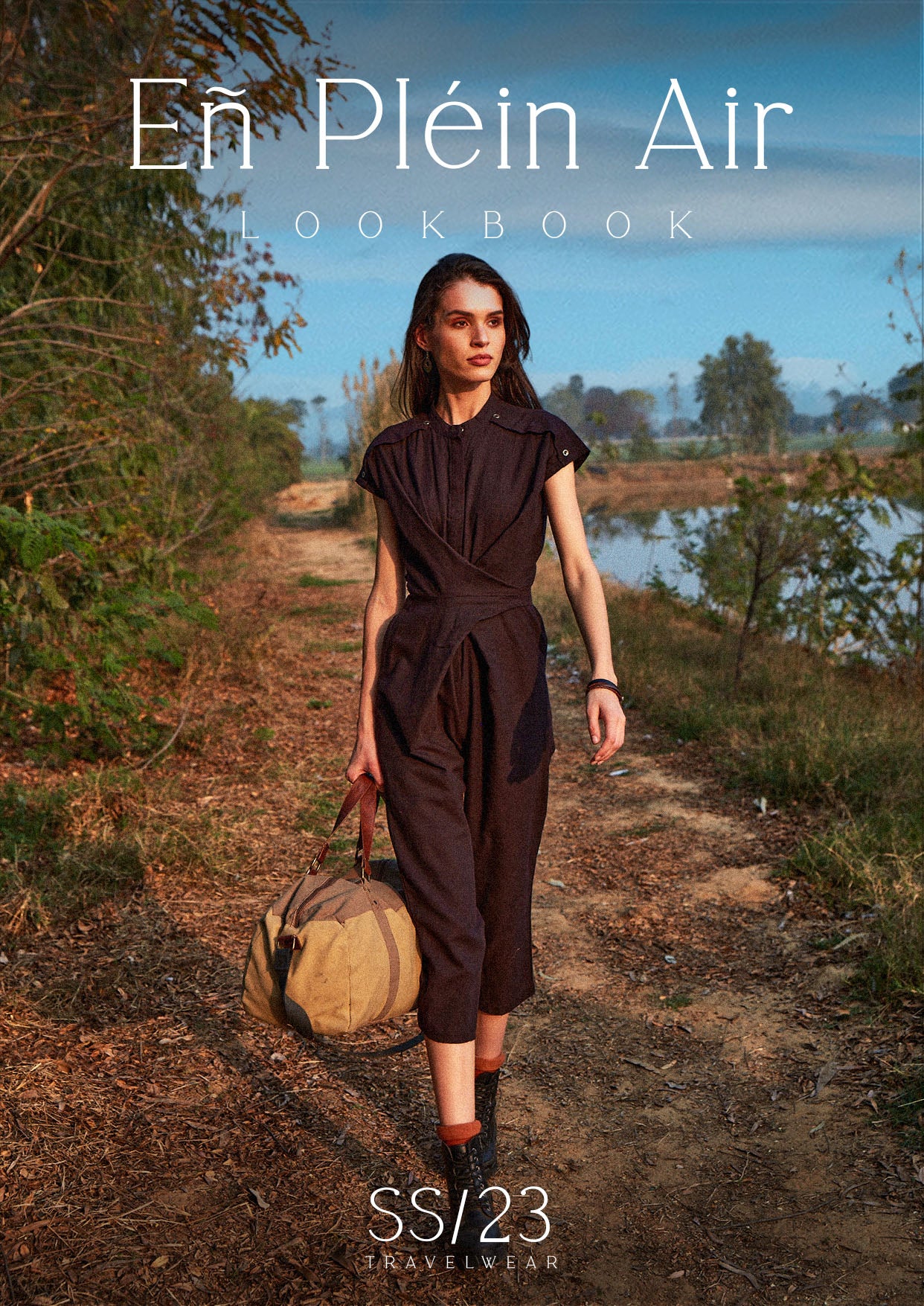 blue hour: SS/23 ' En Plein Air ' A collection that resonates your dreams of the wild. Dining under the stars, the melody of river water flowing and gazing at the celebrated wildlife. 'En Plein Air' is a concept that means "on the outside" and is a feeling. A feeling to step out of the everyday hustle, & travel to the Serengeti for an adventurous safari. "Enchanting, relaxing, and quiet: A paradise beyond paradise, a natural ease"   En Plein Air is designed keeping in mind the freshness of air & an escapist mood. Featuring Earthy colors, versatile wrap around dresses, functional jumpsuits, an array of coordinating sets, and romantic dresses, this collection will instantly elevate your travel essentials.
The story of creating jewelry resonates with time. An artist of true merit creates this jewelry in pleated gold like a sonnet, a melody of radiant love and sentiment. The brilliant homage they pay to the archives of history, these ubiquitous pieces travel far more than humans do. Therefore, we need to embrace it. It derives inspiration from the re-rooted nature that evokes a religious sentiment. Jewels that are inspired from motif developments of lotus, mogras and betel leaves, bring Barqat to life. This treasure hits a new horizon to provide women with diversity in design, who dive away from traditional cuts and opt for alternative ones to create statement looks. Earrings that revel in "everyday luxe", necklaces and hair adornments that "dominate festivals'', this timeless treasure is a contemporary do-over. Why buy from us? Ever wondered why people wear ornaments? It's only not because gold is a woman's best companion but it also stands the test of time. We have kept in mind the demand of women who seek for individuality by creating pieces that fall under the 4c's:  Contemporary: With the jewelry that hits a new horizon in perfect bold looks, shares a deep rooted connection with history yet steps into the modern world by curative styling combinations with reinvented edges and cuts. These jewels that revel in diversity and artistic impression are forever yet of the moment. Connection: From vendor to designer, everyone's sum creates parts that have become larger and made this jewelry valuable. Everyone brings their unique experiences, expertise and stories to make timeless pieces that live eternal.  Conscious design: Shaped through ever changing eras, golds today represent the reinvented perception of beauty and glamor in every way. They adapt and remodel to a heart's desire with new design details of flowers that not only are engraved on it but serves as an armor of their nostalgic moments.  Craftsmanship excellence: Exceptional craftsmanship with modern influences result in products that travel with time. It has a layer of history and symbolism yet is upscaled in design, trend  and convey a minimalist direction to dress boldly.